Braemar Wall Furnace
Braemar's wall furnace is Australia's most attractive and functional. Its slim-line design makes it as discreet or as visible as you like, and with a stunning 'Ivory Sands' finish, it complements any decor.
Option to heat two rooms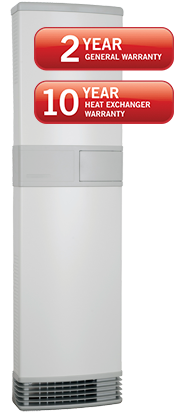 optional rear vent kit means an adjoining room can also be heated, which effectively gives you two heaters for little more than the price of one.

Sized to suit you
Braemar wall furnaces are available in three capacities, to suit your lifestyle needs.

Braemar Eco-Superstar WF25
An ultra-efficient furnace with an impressive 4.8 star rating, the WF25 heats up to 85m2* and is a perfect solution for those wanting super-efficient and economical heating.

Braemar Ecostar WF30
The WF30 is an ideal replacement for existing wall furnaces and is able to heat up to 90m2*.

Braemar Ecostar WF40 (mainly commercial applications)
The WF40 will heat an approximate area of 80 -110m2* and is recommended for light commercial or large domestic applications such as halls and large rumpus rooms. It is not generally recommended for normal domestic applications due to the higher air flow rates.