Toilet Suites Canberra, Caroma
These toilet suites are what Duncan's Plumbing Service recommends, as Caroma is tried and tested.
Caroma Aire Toilet Suite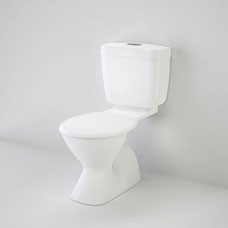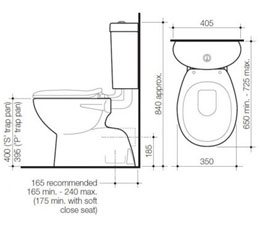 The Caroma Aire Concorde is a general purpose, economic suite ideal for renovation installations. The shrouded pan and flush fitting connector piece reduce dusty spots to enable easier cleaning. – Dual flush technology delivers 4.5 litres per full flush and 3 litres per half flush, achieving a WELS 4 star rating
Adjustable connector style
White elongated button assembly design
Vitreous china pan
Plastic cistern
---
Caroma Profile 4 Trident Connector Toilet Suite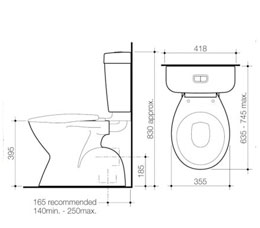 With its adjustable connector styling, the Profile Connector is the ideal choice for retrofit applications. Cleaning has been made easy with the concealed pan that reduces dusty spots and a hygienic, snap-on detachable seat. – Award-winning Caroma Smartflush® technology reduces water use to 4.5 litres per full flush.
Adjustable connector styling
Chrome button assembly design
Hygienic, snap
on detachable seat
Vitreous china
---
Caroma Profile 5 Toilet Suite with Integrated Hand Basin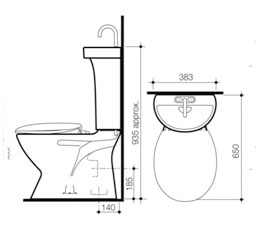 The Profile 5 Toilet Suite is the ultimate in water and space saving technology. Once the toilet is flushed the clean water to refill the cistern comes through the tap on the basin at the top so you can wash your hands using the fresh water that would usually just fill the cistern ready for the next flush.
The only 5 Star WELS Rating Toilet Suite on the market;
P or S Trap;
Bottom Inlet;
The toilet is flushed when you press the button and then the clean water to refill the cistern is used to clean your hands via the tap on the top.
---
Caroma Opal II wall Faced Closed Couple Back Entry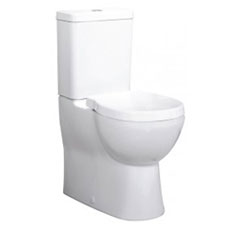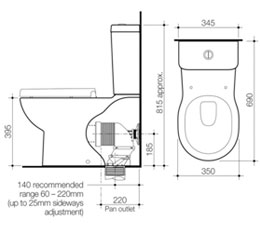 The new generation Opal II range brings polish and streamlined style to Australian bathrooms. With smooth, easy clean lines, wall-faced design and quiet, soft closing seat, the Opal II is a beautiful and practical addition to the Caroma range.
Wall faced, close coupled style for an easier clean
Quiet, soft closing seat
Chrome button assembly design
Fast filling cistern
Vitreous china
Supplied with patented Uni-Orbital® Connector that extends to any position up to a 25mm radius