Gas Installation and Fitting
As Canberra's most versatile plumbing company, Duncan's have experts on hand for just about everything, and gas installation is no exception. Our qualified specialist fitters are well-versed in the safe installation, repair, and replacement of all domestic and commercial gas appliances. Whether you're building or renovating your dream kitchen, creating an outdoor entertainment area, or need assistance with a leak or fault, the specialist team at Duncan's stands ready to offer you their gas installation expertise.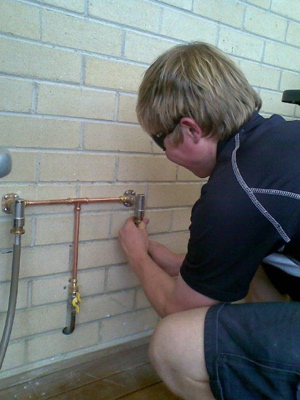 We specialise in the secure removal and installation of all gas appliances, including cook-tops, stoves, water boilers, and gas cookers. We are also one of the few local companies equipped to install bayonet fittings for gas BBQs. This delicate little procedure is perfect for the outdoor entertainer: once done, you'll never have to fill another bottle!
In addition to our gas installation services, Duncan's also offers a leak diagnostic and repair service for gas appliances and hot water systems. A leak or fault in the line can be deadly, and Duncan's can help you take that risk down to zero by performing pressure tests on old pipes to detect leaks, replacing your old gas line by converting the old galvanised pipes into new copper gas piping, and repairing any leaks we discover.
Call us for help with the following:
Oven Installations: Gas ovens and cooktops, for kitchen refurbishment or old appliances

Outdoor BBQs: Connections and conversions for outdoor gas BBQs

Gas Heating: All gas connection needs for heating, including boilers, swimming pool heaters, outdoor heaters, and infrared radiation

Gas Repairs: 24 hour gas repairs

Gas Safety: Leak detection and safety inspections for complete peace of mind

Gas Conversion: Electricity to gas conversions, or LP gas to Natural gas conversions

Gas Bottles: We install LPG bottled systems (from 45-200kg, and large tank systems) including all pipe work and concrete support bases in most rural areas surrounding Canberra

Gas Heater Removal: We remove all unwanted and old gas heating systems to make room for renovations and extensions