Excavator and Heavy Equipment Hire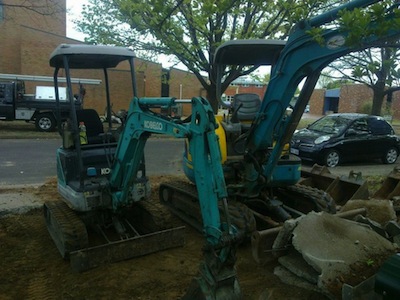 Excavations are all but impossible if you don't have the right equipment, particularly where a certain tie of excavator is required. Duncan's can help: we have a large range of heavy equipment for hire and the manpower and know-how to operate them. Our larger machinery includes shovels, 1.5, 3.5, and 5–7 tonne excavators, 3m³ and10m³ tippers, and bobcats. We also provide electric jackhammers, commercial vacuums, high pressure water cleaners, and both plate and compactor whackers.
Our skilled staff are highly trained and fully qualified in the operation of all our heavy machinery, excavator or otherwise. And for those jobs where a little something extra is required, we have access to competent and capable sub-contractors to fulfil your excavating needs. Whether the job is simple and small or involves a huge amount of digging, Duncan's will ensure that it is properly excavated, filled, compacted, and cleaned. We are also available for detailed and beautiful landscaping, which we will do to spec in order to meet your needs.