Dux Hot Water System in Canberra
Dux Hot Water is Australia's largest locally-owned hot water system manufacturer, and Duncan's consider them an excellent choice for your hot water system. Dux invests a huge amount of time and money into the development of cutting-edge hot water technology, and in accordance with a strong environmental focus, develops Australia's greenest water heaters. Dux systems have the dual benefit of ensuring that you both have the highest quality of water heating at your fingertips, and also save money and the environment by economising on water and energy.
Duncan's has many years of experience with the installation, servicing, and purchase of hot water systems under our belt. We are therefore very selective about the types of systems we allow past our quality control to recommend and pass on to our customers. Dux hot water systems are consistently high on our recommendations list due to their unwavering commitment to quality – a commitment we share. Duncan's can help you decide which capacity of hot water system is right for you. This will be influenced by: the number of bathrooms or people using hot water at once, the number of adults and children residing (remembering that children will require more water as they grow up), the number of dishwashers or washing machines connected that may use hot water at the same time, and whether there are any large bathtubs or spa-baths to be filled. Your needs may also depend on the climate and water pressure.
Contact Duncan's today for more information, or click below for more details on Dux water heaters.
Dux proflo electric storage 80 – 400L sizes (pdf)
Dux proflo electric storage 25 – 50L sizes (pdf)
Dux prodigy5 – five star gas storage (pdf)
Dux prodigy3 – three star gas storage (pdf)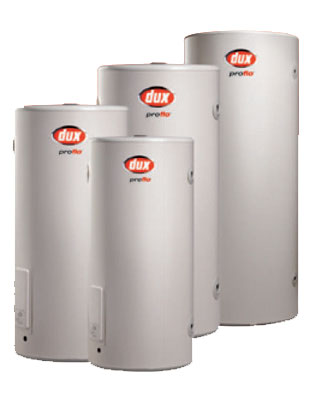 Why the Dux® electric storage systems are preferred
Full flow pressure to all taps
Easy installation – water connections on both sides of tank
Low maintenance and long service life
Positive domed technology
Versatile – same unit can be installed indoors or out
Hard wearing, tough polymer end plates resist damage and moisture
Available in single element (315L and 400L also available in twin element)
Steel tank features rock-hard Duro-namel® vitreous enamel to maximise tank life and durability
Backed by a 7 year tank warranty, including 1 year full parts and labour
Dux is part of a publicly listed Australian company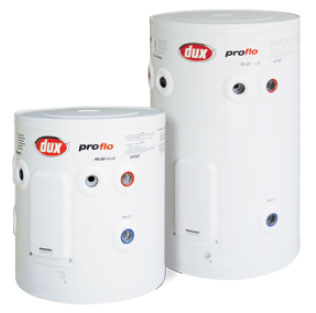 Outstanding hot water delivery for a better customer experience
Attractive appliance white finish for a cleaner, modern look
Back to the original diameter to fit in a cupboard
V-Fit dual-handed connections make installation easy, as there are connections on both sides of tank
Hot outlet and cold inlet colour coded indicators
Mains pressure provides full flow pressure to all taps
Trusted enamel coating to maximise tank life and durability
Watermark approved – your guarantee of quality
Low maintenance and long service life
Backed by a 7 year tank warranty, including 1 year full parts and labour
Dux is part of a publicly listed Australian company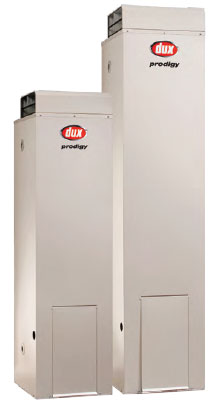 Why you should choose a Dux Prodigy® five star gas storage system
Same footprint (422w x 502d) as existing rectangular 3 star external gas storage units, allowing easy replacement of older rectangular systems
Delivers well over 2,000 litres of hot water in a 24 hour period at 45°C temperature rise
Patented Flue Damper technology delivers 5 star gas efficiency by dramatically reducing heat loss after the heating cycle
No electronic controls required
Backed by a 10 year tank warranty, including 1 year parts and labour
Full mains pressure to all taps
2 capacities to choose from – 135L or 170L
Adjustable thermostat for safety, efficiency and control over operating costs and performance
Available in both Natural Gas and Propane
Duro-namel® tank lining for corrosion protection
Dux is part of a publicly listed Australian company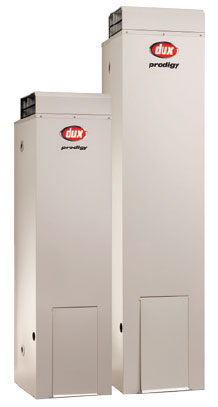 Why you should choose a Dux Prodigy® 3 gas storage system
Backed by a 7 year tank warranty, including 1 year parts and labour
3 star efficiency
Full mains pressure to all taps
Easy installation – water connections on both sides of tank
Adjustable thermostat for safety, efficiency and control over operating costs and performance
Rapid reheat
Duro-namel® tank lining for corrosion protection
Dux is part of a publicly listed Australian company